Welcome to
YCTC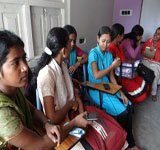 The Youth Computer Training Centres run by the Department of Youth Services in collaboration with different reputed agencies.
Youth Computer Training Centres all over the West Bengal having their Government Order setting up computer institute by concern District Youth Officer.
To provide whole-hearted education & training in order to generate quality manpower in IT sector. To provide job-related course curriculum.

All time development of study materials to keep the students up-to-date.

To develop ample training program to promote self-employment and entrepreneurship.

Online Examination System in all Youth Computer Training Centres of our state was introduced in 2016.

Consequently, all Youth Computer Training Centres have already come under the purview of Electronic Examination and Assesment System(EEAS) .
Reputed Centres
MALLARPUR YOUTH COMPUTER TRAINING CENTER are providing value added certification along with quality training to our students.

At Tarapith Youth Computer Training Centre our mission is to provide expert dedicated faculty routing with beginners and experience hands to familiarize themselves with opportunities in today's IT world.